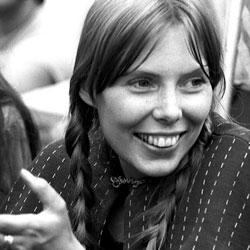 Your (not so) weekly listen for 12/16/14 is the lovely and legendary Joni Mitchell. Here she strums a lap dulcimer and sings one of her classic melodies, "California". This video is from an October 1970 appearance on BBC Television. Although the dulcimer is a bit out of tune, her vocal performance is flawlessly on pitch, and furthermore, so inspired that I felt the video overall was well worth recommending.
Joni Mitchell was a pioneer in the folk music revolution of the 1960s along with contemporaries like Judy Collins, Joan Baez and Bob Dylan. She had numerous hits including "The Circle Game", "Big Yellow Taxi", "A Case of You", "Woodstock" (made famous by Crosby, Stills & Nash), "Both Sides Now" and others. Many of her songs have been recorded by other well-known recording artists. Some have even credited her with "inventing" the female singer-songwriter genre.
She was born in Fort McCloud, Alberta (Canada) in 1943 and eventually found her way to New York City where she joined in the folk music scene there and got her start. She had huge success as a "hippie" folk singer in the 1960s and early 1970s.
In the course of her career, she has released 19 studio albums. In the 1980s and 90s, she gravitated more towards a jazz sound. In 1997 she was inducted into both the Rock'n'Roll Hall of Fame and the Songwriters Hall of Fame.
Joni Mitchell is also an accomplished painter and today resides in Canada. She is undoubtedly one of the most influential musical artists of our time.